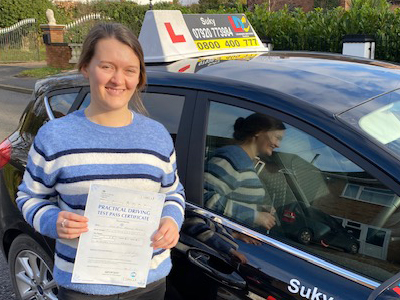 Ruth Pontin
I am so pleased I chose Suky to be my driving instructor. Although it took me 3 attempts to pass, Suky was always patient, encouraging and constructive. Her teaching methods were positive and adapted to the pace of the learner, but Suky also knows when to push you into taking that next step. I am very grateful for the confidence Suky had in my driving and the support she gave which helped my gain confidence in myself as a learning driver. It finally paid off. Many thanks to Suky, who I would definitely recommend.
Nic
I have had three different driving instructors and I have to say that Suky has been the absolute best. I put off driving for a very very long time as I was so nervous. However, after taking lessons with Suky I found myself looking forward to my lessons and driving. She made me feel comfortable and was very patient with me. I was with Suky for about three years as I was always on and off with my lessons due to personal reasons but Suky never gave up on me and encouraged me to continue my driving. I have to say without her I would have not had the confidence to take my test and pass. I would recommend Suky for sure, I actually already have people wanting to take lessons with her. More than an instructor Suky had become a really good friend and that's rare to find in an instructor. As happy as I am I have passed I can honestly say I will miss my lessons with her.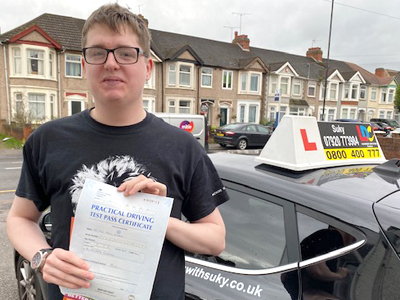 Jake Keable
After moving to Suky in august I became more confident whilst driving and I learned more in the first few lessons with her than I did with my previous instructor in ten lessons. I enjoyed learning with Suky because there was never a negative atmosphere and she was always positive and never got angry or frustrated that I could see. I passed 1st time and would recommend Suky to anyone who is looking for thorough but enjoyable lessons.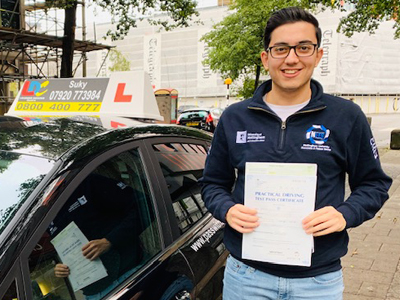 Nathan McNulty
Suky is an absolutely fantastic driving instructor with a lovely personality. She never shouts or gets annoyed, demonstrating that she is an extremely patient teacher for people of all skill levels! Would definitely be my first choice recommendation for anyone looking to pass their test with flying colours!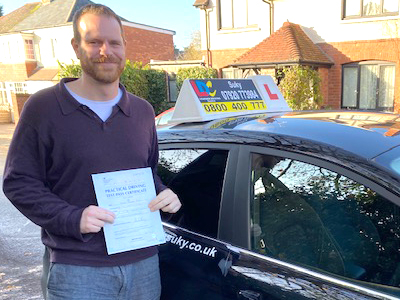 Sam Birch
I didn't start learning to drive until my mid-30s and so I was really nervous when I started, but Suky was fantastic. She had the right mix of reassurance on the one hand, while challenging me to improve on the other. She was also good fun to chat to and made me feel relaxed behind the wheel much quicker than I would have thought possible. To my complete surprise, I passed first time after only 6 months - something that wouldn't have been possible without Suky's patience, skill and support. Thank you so much Suky!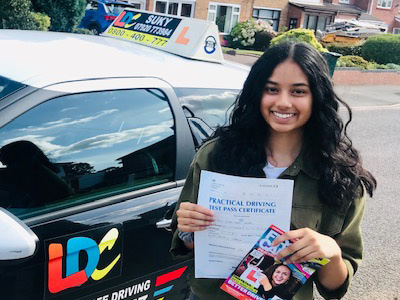 Risha Mistry
Suky is everything you would want in an instructor. She is a combonation of funny and talkative, aswell as providing you with all the confidence you would need on the roads. Driving was something I used to dread until I began with Suky, as her enthusiasm and motivation made me look forward to each lesson. Suky and I got on really well which really had an influence on my confidence when driving. She made me feel comfortable enough to ask any questions or go over anything I did not fully understand. Thank you so much for all your help Suky, I will definitely miss your company! Highly recommend!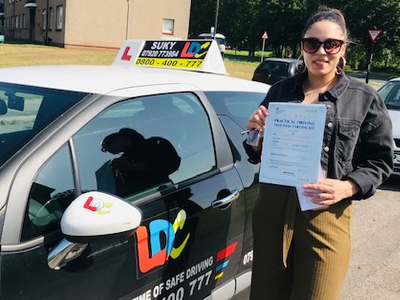 Shakira Clarke
Passed 1st time
Suky is a brilliant driving instructor!! if you're looking for someone who is professional but down to earth and pushes you to get things done then she is 100% your woman! I was not the most motivated and reliable student but after finding out i was pregnant we both made extra effort to get me passed before my baby was due. I passed first time at 8 months pregnant!! Thankyou so much Suky! I would not have managed it without a completely comfortable atmosphere and belief that I could actually do it, you are the best at what you do and i will be recommending you to everyone i know!!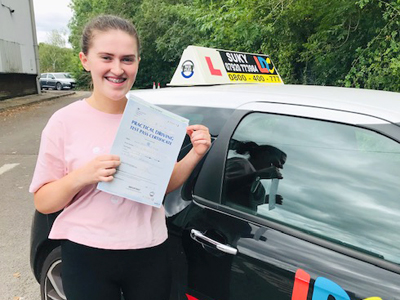 Lucy
I am very happy that I passed my driving test first time! I would like to say thank you for Suky for being such an excellent driving instructor, helping me progress and for making every lesson I had enjoyable. Suky made me feel confident in the car and I felt like I progressed week by week. Suky and I got on really well and she made me feel really relaxed in the car. I cannot recommend her enough! She has given me so much support, was always reliable and was very caring. She always wanted the best for me! The lessons were always really fun with Suky and the mock test she did with me was a great help as I knew what I could improve on and what I did well. After having an operation on my leg I was nervous to get back into driving. I am grateful that Suky really encouraged me, made me feel confident and kept me motivated to get back into driving again. I always looked forward to every lesson I had with her and I always came away from every lesson with constructive feedback that was very useful on helping me improve. Thank you Suky for all that you did for me. I am going to miss our chats and laughs! You are the best instructor I could have ever asked for.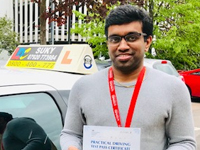 Manikandan Balasundaram
I am happy that I passed in my very first attempt to license after starting to learn driving a car with Suky a few months back. I had just around 30 lessons covering all the essential manoeuvres not only for the test but also to manage critical situations on road which may arise anytime. Suky is very methodical in teaching and she designs the lessons based on the student's experience with driving. She is very friendly and accomodative and cleared my doubts with driving in general and towards preparation for the test. I took two mock tests and I gradually reduced my mistakes where she explained in detail and made me realise my errors while driving which helped me a lot in getting ready for the test. Overall, I am very confident that I can drive safely on roads throughout my life after taking lessons with her. I recommend Suky to be your instructor whether you are an experienced driver or the beginner and you can hope to pass your test without many attempts.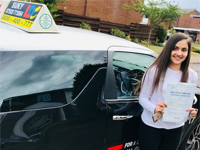 Ellie
Passed 1st time
I would like to say a huge thank you to Suky for being an exceptionally brilliant driving instructor and helping me to pass first time! She is a faultless teacher whose knowledge and expertise ensured I was fully prepared for my test. Suky always tailored her lessons to suit me around my school and work commitments and allowed me to choose specific areas of weakness to work on to build my skills and confidence. Thanks to her technique and reassurance, I can finally parallel park with ease! I thoroughly enjoyed my experience learning with Suky as she is the most kind-hearted, encouraging and approachable woman and I could always count on her to make my lessons fun and enjoyable. It was an honour to be taught by Suky and I would highly recommend her to anyone in search of the perfect driving instructor! J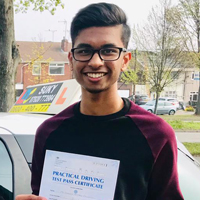 Safwan
Within the space of 30 lessons I passed first time with Suky. Suky is a excellent driving instructor who helps build your confidence making driving fun and easy. At times when I made mistakes she gave me positive, clear and constructive feedback allowing me to tackle these issues and become a better driver. Aswell as being a great instructor, you develop a friendship with Suky which made me feel comfortable enough to ask her plenty of questions to help my understanding and gaining in-depth feedback to improve my driving abilities. She even goes the extra mile by tailoring lessons specifically to your needs and by sending videos to help understand certain aspects of driving ready for the next lesson. Her patience, clarity of feedback and the bond you have with her sets her apart from all the other driving instructors. I would highly recommend Suky to any learners out there. Thank you very much Suky for all the great lessons.
Katie
I just want to say, a great big thank you to Suky for helping me past my driving test first time with no minors. Suky was my last hope to find a love for driving, as I lacked confidence from my previous instructors, due to the way they taught, and she did not disappoint! Suky is truly remarkable with the amount of patience she has and the ability to teach in a memorable way, helping you achieve the skill of driving. Learning to drive is one thing, but to be able to enjoy each and every lesson is another! Suky helped built confidence in myself and my ability to drive as she is reassuring, honest and calm which is perfect when learning to drive. Suky was there every step of the way and adapted her teaching to suit. I am definitely going to miss Suky and her bubbly personality which is infectious. I honestly have thoroughly loved my time learning to drive and I have now found the confidence to drive independently. Thanks a million!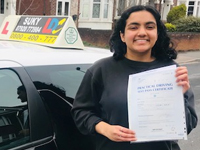 Alisha
I would recommend Suky to anyone for driving lessons. She is the perfect combination of funny, relaxed and stern(!) She not only gave me the utmost confidence from the first lesson, she also made it so fun. The thought of driving previously seemed like a chore, but after a couple of lessons I found myself actually looking forward to it. It's one thing teaching someone to drive, but another to give them enjoyment in it, which is what Suky does effortlessly. Each thing is explained perfectly and by the test you feel as confident as possible, in that she's covered everything, & possibly more! I will genuinely miss her lots.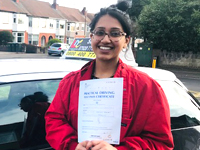 Priya
Suky is the easiest person to get along with and I couldn't have had a better time learning how to drive with her. From day one, my lessons felt natural and progressive, and I was always given advice in a supportive way. I had to take a few long breaks during the time I was learning, but she was very accommodating towards this and I always felt comfortable getting back behind the wheel, even if it had been a while. I really recommend taking lessons with Suky. Not only will she break down driving for you and make all of it seem less daunting, but your lessons will be great fun and she'll put you at ease every step of the way. Thank you so much Suky! I'll really miss our lessons.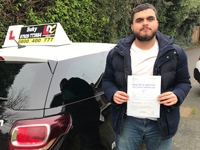 Ibrahim Abid
I want to say a huge thank you to Suky for being such an amazing driving instructor for me. After leaving my last instructor, I was recommended Suky by a friend of mine after feeling I was not making any progress and not feeling confident at all in my driving capabilities. From taking lessons with Suky, I had felt a lot more confident and I had learnt a lot from her very quickly as we were covering all the the mistakes I was making before and looking over them in depth from all the small mistakes to big ones too. I was reassured by Suky in my situations where I wouldn't feel very convinced with, especially on busy roundabouts, but going through the issue constructively, I had felt very self assured straight away. We were also looking at test centres in depth and I was put under mock exams, making me feel more prepared as my driving test had approached. One of the best things about having Suky as an instructor is that she was very understanding, humorous and a lovely person to be around when driving, always making me feel comfortable when driving, therefore giving huge strides of progress as each lesson went by. I will highly recommend anyone to Suky and I'm so grateful to Suky for making me pass my test and being a good driver!
Darshan
I was recommended to Suky via a family friend. After failing twice with a previous instructor I decided a change of instructor would be best. When I met Suky I explained my situation and what qualities I thought my previous instructor lacked. She took all these on board and helped my driving immensely. She covers every little bit of detail and explains any big or small mistakes you may make in a way that you will understand. I had much less than 20 lessons with her and passed with great confidence on my test day. Suky is friendly, flexible, engaging and has a professional and effective teaching method. I highly recommend her whether you're just starting or whether you're changing instructors like me. Thanks a lot for all your help and I'm so excited to drive on the roads!
Amreen Dean
I have to say with no exaggeration at all this lady right here is an awesome instructor! From my first lesson to the day of my test she assured me that I could do it! Suky helped me fight my parking monsters and was able to teach me how to accurately park, I had struggled understanding the basic logic behind parking for such a long time! Suky has the unique ability to simplify driving with her handy tips, which gave me the confidence to pull it off! A word of warning though don't be fooled by her quiet demeanour she can switch it up on MOCK TESTS when she becomes the feared examiner with a flick of a switch!! With all honesty this is exactly what you need to prepare for your actual test. Suky is a great teacher, with an excellent balance in her teaching method! Thank you, we did it!
Harpreet Shergill
I would definitely recommend Suky as she helped me pass my driving test first time. We covered many test routes so I was well prepared for my test. She's also a friendly and funny instructor so every lesson had with her is as comfortable as it is helpful. Criticism was always given in a constructive rather than harsh way so it doesn't knock your confidence as a driver. I'm really happy I went to Suky and I've already recommended her to my friends!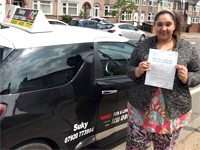 Manpreet
I owe it all to Suky Badhan for being such a great driving instructor. She helped me to build up my confidence and overcome my nerves as my driving test was approaching. I would definitely recommend Suky! I am glad that she was able to provide me with all the lessons that I needed. She is a patient and reliable driving instructor. I am so excited to get on the road! All thanks to Suky!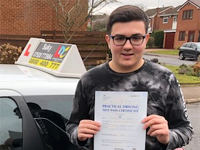 Aaron Biddle
There were absolutely zero faults when it came to being taught by Suky, everything was covered in depth, and so there were no unexpected obstacles on my test. My driving lessons were enjoyable, and I looked forward to having them every week. Suky's was the first car I stepped into, and I passed in under 20 lessons, with only 2 minors, thanks to all the help and advice provided to myself. From day one, my confidence was boosted and I could take my lessons with great flexibility. Her knowledge of the different test routes was extensive, and all were completed with ease because of the clear instructions given. She has a professional approach, a great sense of humour, and is one of the most kind hearted and selfless individuals you will ever meet. I am extremely grateful for everything she has done and am proud to say I have had the opportunity to be taught by Suky. I highly recommend her to anyone looking for an instructor, and would like to thank her again for the valuable life skills learnt.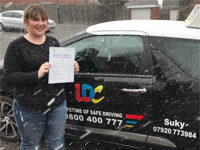 Molly
First of all a massive Thank You to Suky for helping me to pass my driving test first time in just over 6 months! She is a very friendly and calming instructor and built my confidence quickly. Flexible with lessons that fit around my work and university timetable. I felt well prepared and calm for my test and that would not have been possible without her help! I would recommend Suky 110% to anybody who wants to start learning or even restart learning like I did! Thank you again and see you around!
Sam Beatt
I would like to thank Suky for being an excellent driving instructor, of which i passed first time with only 15 lessons. Suky makes you feel very comfortable and gives you the confidence needed to pass your driving test as i was well prepared and very calm thanks to some great help. I would definitely recommend Suky to anybody who wants to start driving as she is very reliable and works around your lifestyle perfectly and is very understanding to any issues that may occur whilst learning. Thank you so much Suky, see you on the road :).
Anietha
Passed 1st time
A massive thank you to Suky for being an incredible driving instructor and helping me pass first time. Suky is an easy-going and supportive driving instructor, with an amazing personality. Throughout my experience, she provided clear and constructive criticism, in a positive and encouraging manner. Suky was recommended to me by multiple friends and gave me the confidence and skills to become a better and safe driver. I'm so glad I decided to go with Suky and I would highly recommend as I couldn't have done it without her! Thank you!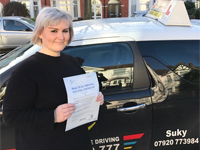 Natalie Sutton
Passed First Time!!
Been learning since May with Suky and we've built up such a great friendship, she was a great instructor who keeps you calm and confident. I would get nervous every time I had my lessons but as soon as I got into the car them nerves would go and that's thanks to Suky. I would recommend her to everyone, she's really understanding, funny and doesn't put pressure on you when driving. I'm definitely going to miss our lessons and weekly gossip but I know I have met a friend for life. Thanks I couldn't have done it without you.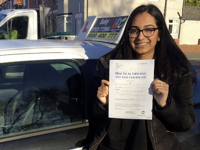 Natanya Nagra
My driving experience was made easy with thanks to Suky. She is a calm, positive and experienced instructor who taught me everything in detail. I looked forward to my lessons as every lesson was about learning something new! She gave me confidence as well as being extremely supportive. Suky is an amazing instructor who gives perfect advice on improving your faults and I would highly recommend her to anyone. I will definitely miss not having any lessons with her!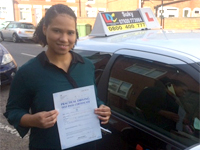 Jatou
Suky was recommended to me by a friend of mine which I am very glad about. A massive thank you to her as she is an outstanding instructor who keeps you very calm and is very reassuring. She explained everything step by step which made it easy to learn and also gave constructive feedbacks which helped build my confidence when driving. She made it easy to fit lessons around my busy work schedule. Suky's an easy going person with a fantastic personality. I would highly recommend her to anyone looking for a driving instructor.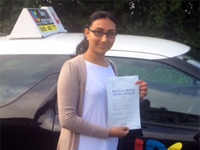 Aman
Passed 1st time
I will definitely be recommending Suky to anyone needing a friendly, patient driving instructor. She taught me how to perfect manoeuvres with simple, structured steps without which I don't think I'd have passed my driving test on the first try. I started off as a nervous driver, but with the constructive feedback Suky gave me and the way she made me feel at ease during lessons, I'm now a confident driver and can't wait to start putting all that i've learnt into practice.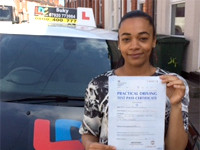 Shenee Daulet
A very big thank you to my Instructor Suky Badhan from LDC driving school for helping me pass. She made it easy to fit lessons around my busy schedule with work and childcare. Suky helped me stay positive has helped build my confidence, and has given me a positive attitude towards driving.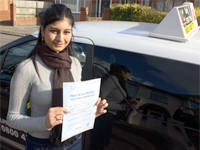 Nia Parekh
Passed 1st time
Passed first time with Suky because she is a great instructor, made everything so easy and simple! Definitely the best instructor you can have! She always made me feel confident and never let me feel nervous. She is a great instructor who helps you focus on weak points to strengthen them. Thank you Suky for all the help you have given me! Would recommend Suky to anyone!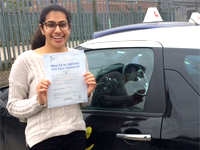 Alysha Patel
I'm so glad Suky was recommended to me by multiple successful friends because she helped to calm my nerves and made me a much more confident driver. You can have a laugh with her, but she balances this with valuable constructive feedback. Before I'd even started driving I put it off for so long because I was so nervous, which meant I had to continue lessons during University and Suky was so accommodating. I highly recommend her to all prospective drivers, she was a real help.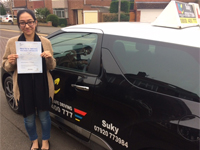 Tahsin Miah
I'm so glad Suky was recommended to me by a family friend as she is an amazing driving instructor and I could not have passed without her. She knows how to make you feel calm and is really patient when it came to working on my weaker areas. She explained everything step by step when I didn't understand something at first. She tailored lessons to what I needed and gave constructive feedback so I felt confident when driving. She is a wonderful, easy going person and someone you can have a laugh with, I would definitely recommend her to anyone looking for a driving instructor.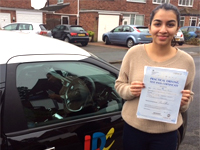 Deepali
Suky is an excellent driving instructor who caters to your needs and listens to your worries when it comes to driving. She helped me build my confidence and made driving seem easy, which is something I did not feel before learning with Suky. Thank you for all your help.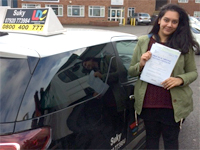 Tanzimh Chowdhury
After many challenging experiences with other instructors, and almost giving up on driving entirely, Suky was recommended to me and I am super glad I got into contact with her. Since then, I have become significantly more confident in my driving abilities, due to Suky's excellent teaching skills, as well as, her friendly and calming vibe. Suky gives great advice regarding driving and has all the valuable knowledge needed to be a confident and safe driver. It has been an honour to be taught by her. I would strongly recommend Suky as a driving instructor to any current or prospective learner drivers out there.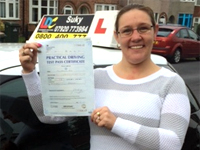 Amanda Price
I had already had some lessons before driving with Suky but I was a very nervous driver when I started with her. she has built my self confidence and made me a better driver. With her support and guidance I passed my driving test which is fantastic. I would certainly recommend her to anyone she's a wonderful person and even better instructor. Thankyou so much.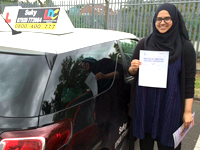 Tayyibah Chowdhury
A family friend had recommended Suky to me to start learning to drive with her and I'm very glad they did. I was initially very nervous about driving and she put me at ease by tailoring the lessons to what I needed to work on and develop. I never felt rushed or panicked when I made a mistake because Suky was always very calm and gave great constructive feedback at the end of every lesson. I looked forward to my weekly driving lessons because it was a lot of fun and I always felt like I had improved after each hour. I would definitely recommend her to prospective drivers. Thanks for all your help Suky!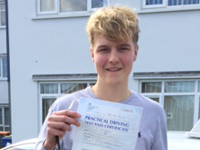 Samuel Reay Smith
Suky is a great driving instructor. She made me feel calm in the car and explained everything very clearly, whilst always being patient with me when I didn't understand something the first time. She has extensive knowledge of the test routes and showed me lots of the different scenarios that could occur in the test, meaning I felt confident when actually taking it. I would recommend Suky to anyone!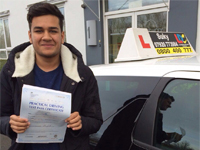 Farhan Choudhury
I passed first time with Suky
Suky is a fantastic driving instructor that calms your nerves while you're driving. I felt confident around her and easily got along with her. The lessons with her are amazing as you never get bored around Suky while you're driving. When it comes to teaching, Suky gives clear instructions and great constructive feedback. I would highly recommend Suky.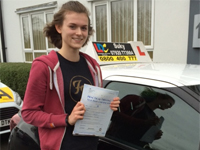 Amy Trenberth
Passed 1st time
I would highly recommend Suky as your driving instructor. She is so easy to get along with and helped me gain the confidence and knowledge to pass. Suky was always there if I needed to ask any questions and go over anything. I had a great experience learning with Suky and thanks to her I passed 1st time with 0 minors!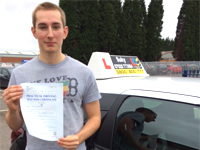 Sam
Passed 1st time
I came to Coventry with a month to prepare before my test and I still passed it first time thanks to Suky. She was great at giving me advice and provided me with the independence which I needed. She gave me useful materials and helped me become a better driver. Thank you for your help.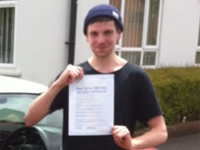 James McCullagh
Suky is a great instructor, very calm and a good laugh. Looked forward to every lesson I had. Passed first time in the space of 12 weeks. Highly recommend her.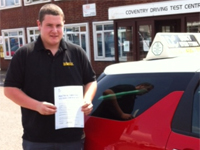 Luke
Suky is a great driving instructor she makes you feel really relaxed whilst driving. She talks you through everything and makes you feel confident behind the wheel. If there is anything you don't understand or are struggling with something she will go through it step by step to help you understand. I passed my test with only 4 minors and if it wasn't for Suky I wouldn't have passed at all. She is an amazing instructor and I will miss all our chats :) so thank you again for everything.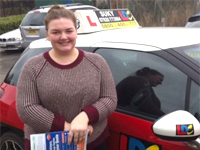 Rachel
Passed 1st time
I really enjoyed the time I spent learning to drive with Suky, it was like driving with a friend I had known for years. Suky gave me the confidence and skills that I needed in order to pass my test first time. Suky is a lovely, honest, kind and caring woman who wants you to do the best that you can. I appreciate everything she did to help me, it was an honour to have Suky as my driving instructor.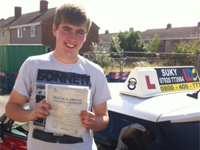 Travis
I passed my test after 15 lessons suky was really easy to talk to and explained everything in the best way possible. i had no problems while on my test because everything had been covered.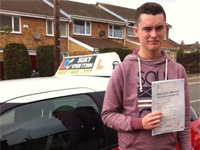 Adam Beatt
I had one previous driving instructor before Suky who I didn't have much luck. However Suky was brilliant, making you feel at ease in the car when driving. Suky also explains things in a very simple way making it easier to understand. I wouldn't hesitate to recommend Suky to anyone learning to drive.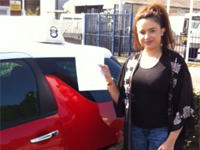 Maria
I have passed my driving with Suky and thanks to her for teaching me how to drive. I couldn't have found a more patient, supportive and encouraging instructor. She is relaxed and has a great sense of humour kept me motivated. She is an amzaing instructor could not ask for much kind hearted instructor who teaches everything, With Suky my experience has been really good. I picked up on things really quickly. I am glad i picked Suky as my instructor, I would thoroughly recommend her. :)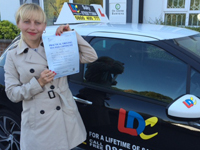 Lyudmyla Demchuk
A huge thank you to Suky for helping me pass my driving test. Suky is an amazing teacher. She is very calm, patient and knowledgeable. I felt very relaxed during lessons with her and I was looking forward to each lesson. Suky was very good at identifying my weakest points and explaining how I could improve and where I needed the most practice. She has given me the correct expectations about the practical test. Suky is a very experienced driving instructor and she knows how to prepare pupils for the test. I'm grateful for her teaching and support. I recommend her to all learner drivers.